Echinacea Supreme Flamingo
Regular price

Sale price

£4.55
Echinacea are becoming increasingly popular, they are known for a prairie style, daisy like flower. Also called Coneflower they are attractive to birds and butterflies. They have have a centre of seeds heads, surrounded by colourful blooms.
Supreme Flamingo boasts showy, eye catching rounded pink flowers, centered with a deep pink cone. If you love pink this is a must have explosion of the senses.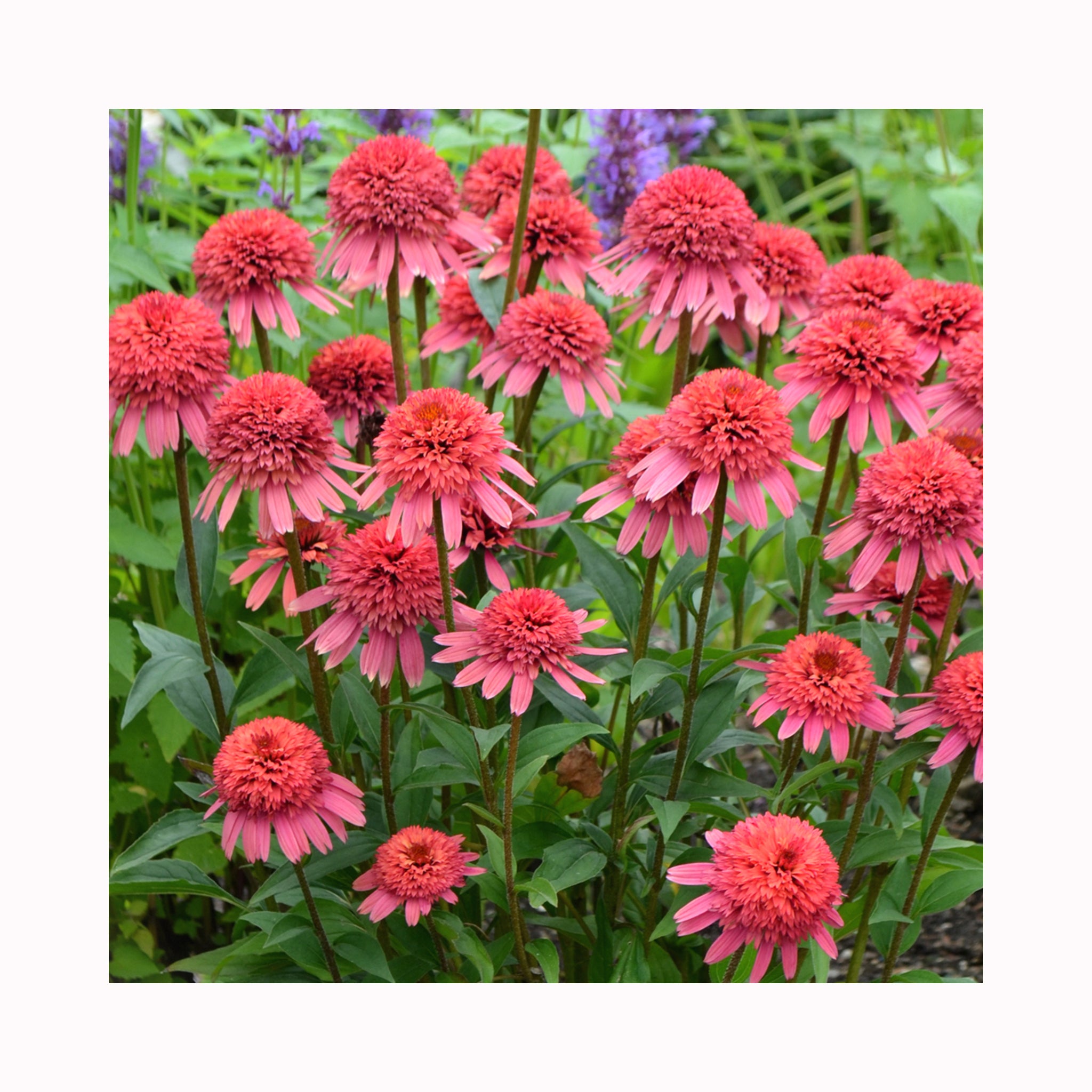 About the Echinacea Supreme Flamingo
Care Instructions

Echinacea prefer a well drained soil which is rich in organic mater. They also grow well in containers but they do have to be fairly large containers at least 40cm across to get the best results.
Watering is straight forward in the summer months they can be thirsty. It is best to keep the compost moist but not too wet.
Position, sunlight and more

Echinacea prefers full sun but can grow well in partial shade. The soil is best to be well-drained and have a good amount of organic matter.
Height and Spread

Grows 65-75cm in height and spread 40cm
Feeding, Pruning & more

Feeding - Echinacea is not a plant that needs too much feeding, an application of slow release fertilizer or a mulch with manure in the spring is ideal. For further feeding in the year a liquid fertiliser works very well. This is particularly the case if growing your plants in a container

Pruning - this is not a plant that needs too much pruning at all. For best results and to encourage more blooms deadheading is suggested, this is best done by cutting the dead flower stems off at the base of the plant.

Propagation - The best way to propagate echinacea is from division. This is practically the case with the more unusual verities such as this one which can not be grown from seed. The best time to divide the plants is in early spring or Autumn.
Our pot & plant size explained

At Newlands Nursery we grow and sell plants in a variety of different sizes, from small starter plants up to planted containers. 

We know it can be tricky to picture the size of each plant. This page gives you an idea of the size of the plants we are sending out.

Please keep in mind that plants vary from one season to the next. The size of the plant refers to the pot or plug it is grown in, rather than the height of the plant, unless specifically mentioned on the plant page. 

Starter Plant (Plug Plant)

Plug Size: 2cm by 4cm. Our most popular size. This is often the most economical way of buying plants and is a great way to get a head start on the season. Generally this size is best to be potted up before planting out.

Jumbo Plug

Plug Size: 6cm by 7cm. A fantastic alternative to a 9cm pot and saves on plastic too. The plants in this size are well established and give you a head start. This size is perfect for planting straight into containers and baskets as well as the garden.

9cm pot

Pot size: 9cm by 9-10cm. This size hold some well established plants, some of which maybe around 1 year old. We sell most of our ranges in this size and most of the plants sold in this size, are established enough to be planted straight outside.

13cm or 1 litre pot

Pot size: 12-13cm by 12-15cm Currently our largest size of plant, with the exception of our planted containers. Many of our House Plants are available in this size, as well as some special collections and varieties.
Flowering time and interest