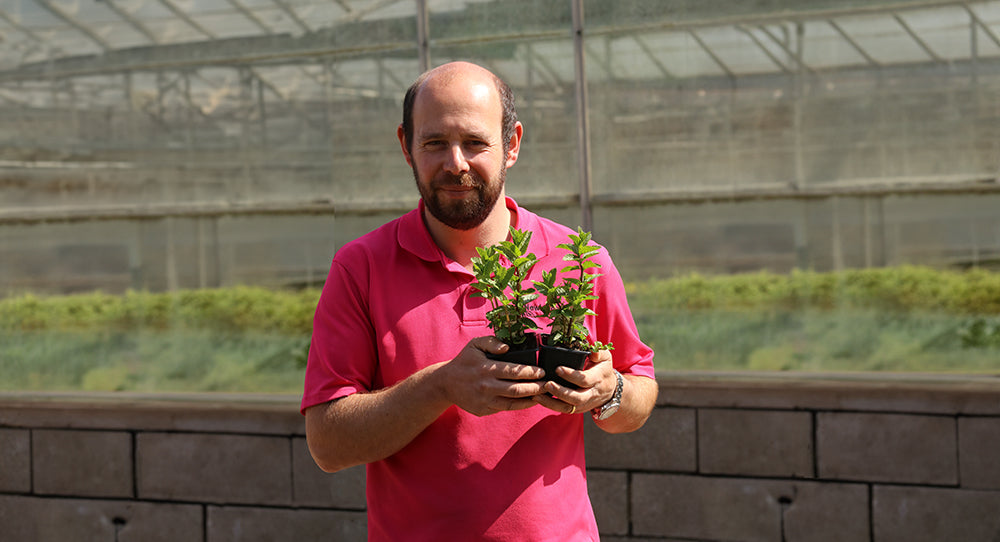 Alan's Bio:
Alan, a 3rd generation Nurseryman has been working on the family nursery for 22 years. His experience in gardening includes, designing award winning RHS displays, maintaining gardens, big and small and growing plants commercially for garden centres and the gardeners alike. These are his top picks for August 2023.
Alan's top plants for buying in August 2023
With Summer coming towards its peak, some plants can look a
bit tired, some of the earlier flowering perennial plants have started to fade, and we turn our attention to the autumn and beyond. These lovely plants are perfect to plant now and freshen up your garden and patio.
Geum
Geum, are herbaceous perennial plants, that have foliage which will die down in the winter and come back, as the warmer weather begins in the spring. As with many plants on this list, we are planting these with an eye to the future. Planting your geums in late summer and into the autumn, helps them establish during the winter months and then come back stronger,
giving you a better display the following year. Geum's are simple to care for and very tolerant to conditions. When planting, make sure the compost drains enough, adding some grit or bark, can help with this.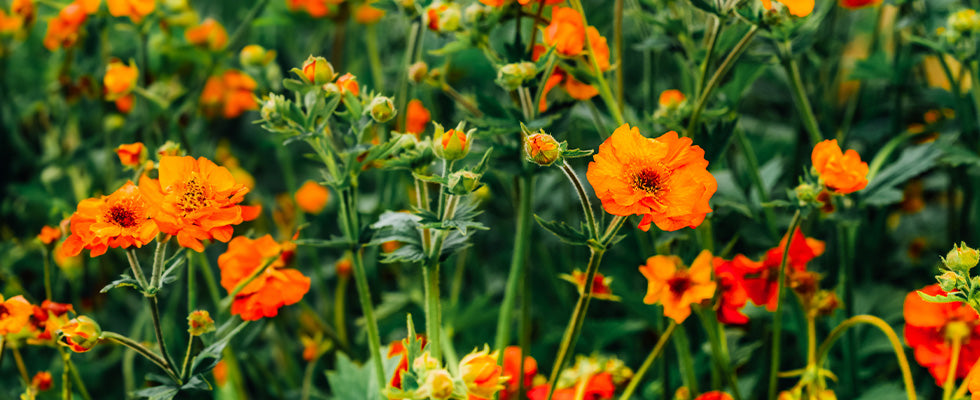 Which Geum: Geum 'Tempo Orange'
If you are looking for a little ray of sunshine, look no further. The bright burnt orange flowers sit above lush green foliage. The compact nature of the Tempo Geum, (growing to 35cm in height) make them
excellent for containers.
Shop now
Tiarella
Tiarella, finding a plant that is tolerant of shadier positions can be tricky, but Tiarella's love a bit of shade and will thrive in that darker spot of the garden, where other plants do not. Sometimes known as foam flowers, they bloom from spring until early summer. The flowers have a lovely wispy quality, that from afar, almost look like foam.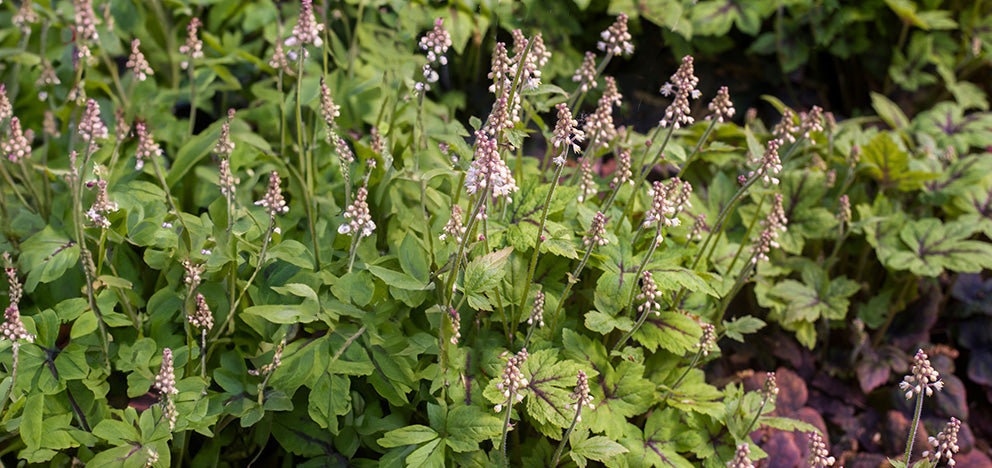 Which Tiarella: Tiarella 'Sugar Spice'
An easy to care for variety which has delicate white/pink flowers, which sit above light green leaves which have deep mahogany red veins. This is a plant that looks good almost all year round, either impressing with foliage or flowers.
Shop Now
Echinacea
Echinacea, when it comes to striking blooms in the late summer and autumn, Echinacea is one of the best. This easy to grow perennial is hardy across the UK and create fantastic centre pieces, to a border or big
container. Flowering from mid-summer all the way through to the autumn, these are a group of plants that add much needed colour in the warmer months of the year, after the spring flowers have finished. Planting in late summer and autumn is the perfect time for these, getting some good fresh growth before the weather turns colder, helps boost the plant for the following year.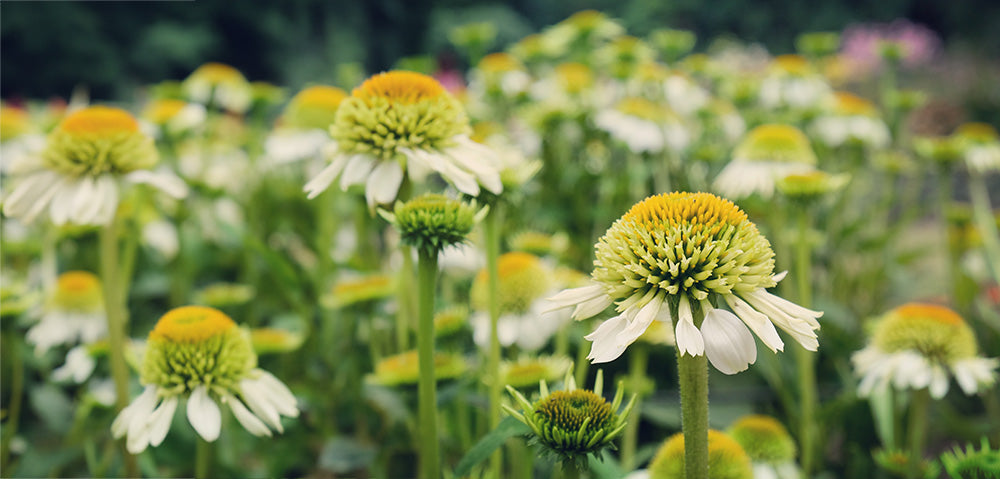 Which Echinacea: Echinacea purpurea 'Milkshake'
A fantastic double flowering variety, which has elegant white petals with a golden yellow pompom like centres. This is a statement plant, that works so well in the centre of a border, or a large container. Growing to 75cm in height and spreading 60cm you are treated to the eye-catching flowers from early summer, through to the Autumn. A stunning plant.
Shop Now
Rosemary
Rosemary, not only is this plant a must have herb, it is adored for its ornamental purposes too. Whether that be in the form of a large statement shrub, or a small neatly cut hedge.  All "true" rosemary plants can be used in the kitchen and will add lovely flavours to many dishes. Late summer and Autumn are an ideal time to plant Rosemary, it allows the plants to establish themselves and get their roots into their new home, before the colder weather kicks in. When planting late summer and autumn, a 9cm potted plant is advised, as they are more established and will get going quicker before the winter.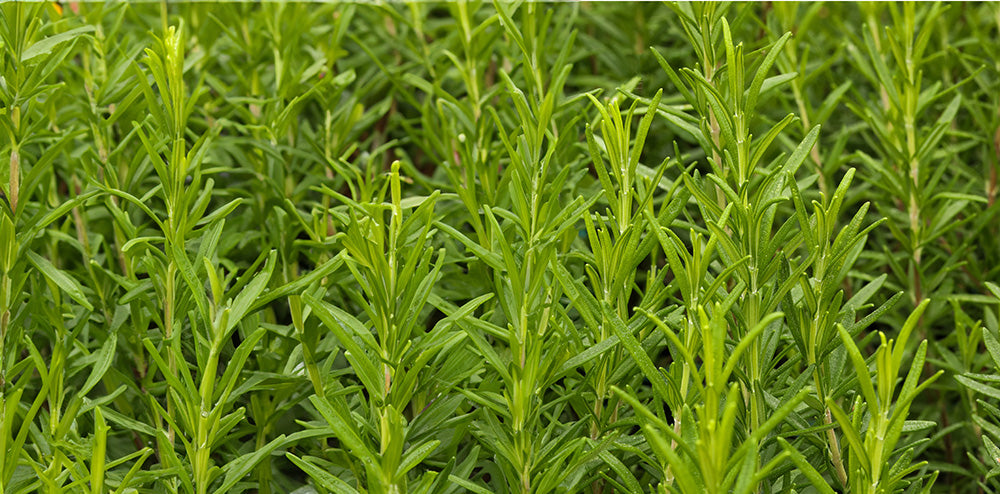 Which Rosemary: Rosemary 'Perigord'
A compact dense growing Rosemary, that originally comes from Spain. This variety is famed for growing quickly, compared to many other Rosemarys and has exceptional taste and scent. Growing to 100cm in height, over
a few years, this is also a wise choice for a rosemary hedge. A great herb to grow in a container, where it can be kept next to the back door and used in the kitchen. The flowers on this rosemary are a lovely pure blue, which appear early to late spring.
Shop Now
Mint
Mint, we all know mint both, for the lovely aromatic leaves, as well as the lovely fresh flavours it can bring to drinks and dishes. Mint is another plant that will die down in the winter, where the plant protects itself over the colder months and springs back to life as the weather warms. Planting in late summer and into the autumn, helps establish the plants and so much good is done over the winter, allowing the plant to come back stronger. An area that people tend to forget about with Mint, is the flowers. Many of them have very attractive flower spikes, that range in colours from light pink to deep mauve, these flowers are loved by wildlife too. Mint is a must have in the garden, if
you love cooking or making cocktails, and it is nice and easy to grow. As well as being great in the garden, they make lovely container plants, this is especially the case in small gardens, where some varieties of mints can get a bit carried away.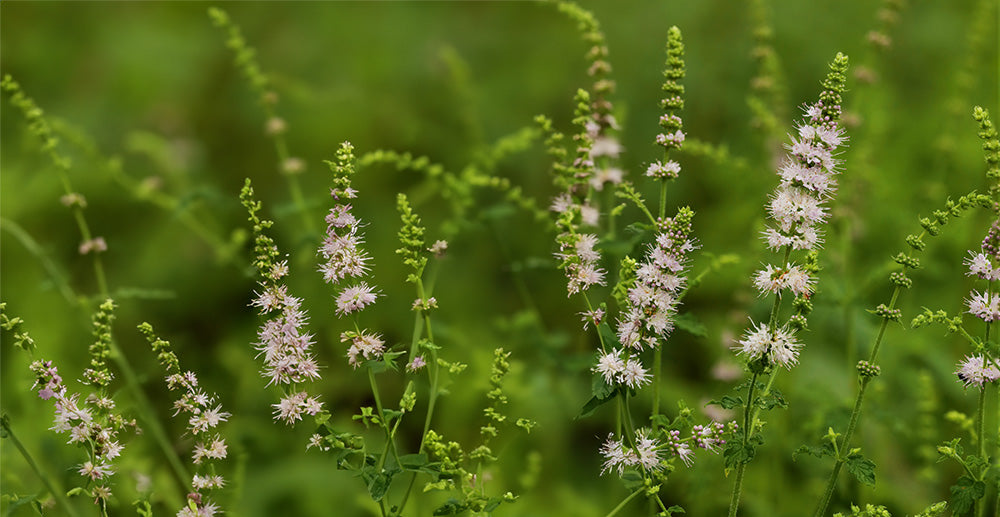 Which Mint: Mint 'Strawberry'
Maybe a mint you have not heard of. The mid green leaves have a lovely fresh mint flavour and scent. As the weather warms up, there is a very distinct scent of strawberries to the leaves, making this a very unusual
mint indeed. This is also a very attractive mint, with a structural quality and delicate lilac flowers in the summer. A great addition to your garden or patio.

Shop Now