Geranium clarkei Kashmir White
Regular price

Sale price

£5.99
Geranium Clarkei 'Kashmir White' has classic pure white flowers, with a deep purple veining. Geraniums are herbaceous perennials mainly, easy to grow and low maintenance. They are, once established drought and pest tolerant. With their foliage and oh so pretty blooms what's not to love about Geraniums.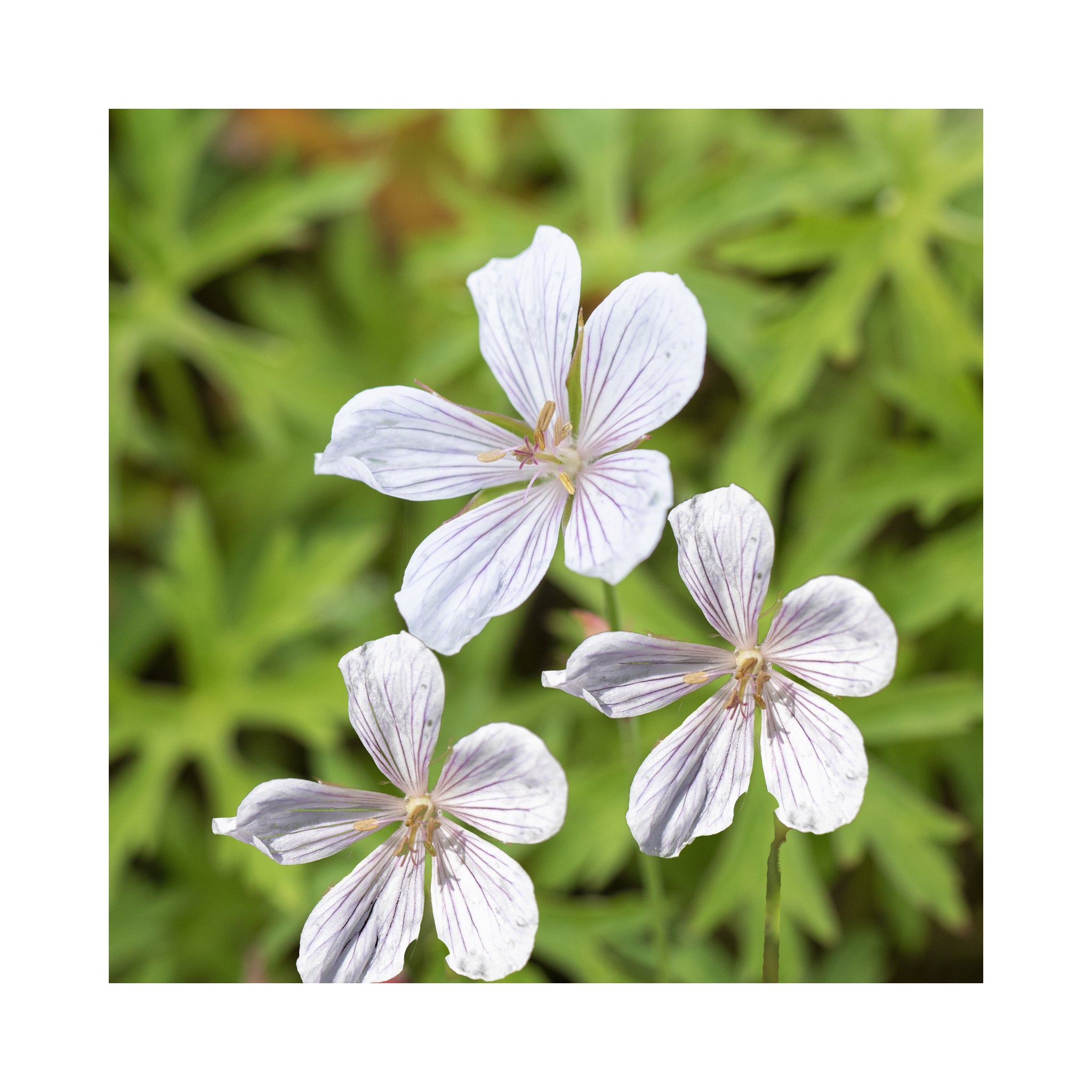 About the Geranium clarkei Kashmir White
Care Instructions

This plant is nice and easy to look after. It is happy growing in a pot as well as the edge of a border. When it comes to watering they can be quiet thirsty, especially while they establish themselves in a new home. Once the plant is established they are more drought tolerant.
Position, sunlight and more

Hardy Geraniums are happy in a wide range of positions, they do prefer a well drained soil which can be in full sun or partial shade. The brighter the spot the more flowers you will get.
Height and Spread

Grows 45cm in height and will spread 120-180cm
Feeding, Pruning & more

Feeding - Hardy Geraniums can be fed at the begin of spring as the fresh growth starts to show. This can be done with a balanced slow release fertiliser. If the plant starts to look a bit tired you can top this up with a balanced liquid fertiliser.

Pruning - Your plants will naturally "die back" in the colder months. To prevent the plants getting to leggy you can prune them back after the flowers have faded in late summer. Deadheading the flowers will help encourage more blooms.

Propagation - This variety can not be grown from seed, propagation is best done by division. This is best done in the early spring or autumn.
Our pot & plant size explained

At Newlands Nursery we grow and sell plants in a variety of different sizes, from small starter plants up to planted containers. 

We know it can be tricky to picture the size of each plant. This page gives you an idea of the size of the plants we are sending out.

Please keep in mind that plants vary from one season to the next. The size of the plant refers to the pot or plug it is grown in, rather than the height of the plant, unless specifically mentioned on the plant page. 

Starter Plant (Plug Plant)

Plug Size: 2cm by 4cm. Our most popular size. This is often the most economical way of buying plants and is a great way to get a head start on the season. Generally this size is best to be potted up before planting out.

Jumbo Plug

Plug Size: 6cm by 7cm. A fantastic alternative to a 9cm pot and saves on plastic too. The plants in this size are well established and give you a head start. This size is perfect for planting straight into containers and baskets as well as the garden.

9cm pot

Pot size: 9cm by 9-10cm. This size hold some well established plants, some of which maybe around 1 year old. We sell most of our ranges in this size and most of the plants sold in this size, are established enough to be planted straight outside.

13cm or 1 litre pot

Pot size: 12-13cm by 12-15cm Currently our largest size of plant, with the exception of our planted containers. Many of our House Plants are available in this size, as well as some special collections and varieties.
Flowering time and interest