Thunbergia Sunny Susy Rose Sensation
Regular price

Sale price

£6.49
Sunny Susy Rose Sensation will grow a profusion of magnificent, vivid pink flowers. The more sun, the deeper the colour. These are a real talking point in the garden or balcony.
Thunbergia, commonly known as Clock vines or Black-eyed Susan vines. It has a vine habit, and with it's stunning flowers, you have an overwhelming effect of sheer beauty. They can be trained to climb up walls, or trellis, also they will climb from baskets and containers, a win win plant.
Thunbergia look like daisies from a distance, 5 petals with a round centre. Leaves that can be lance or heart shaped. This is a low maintenance, fast growing vine.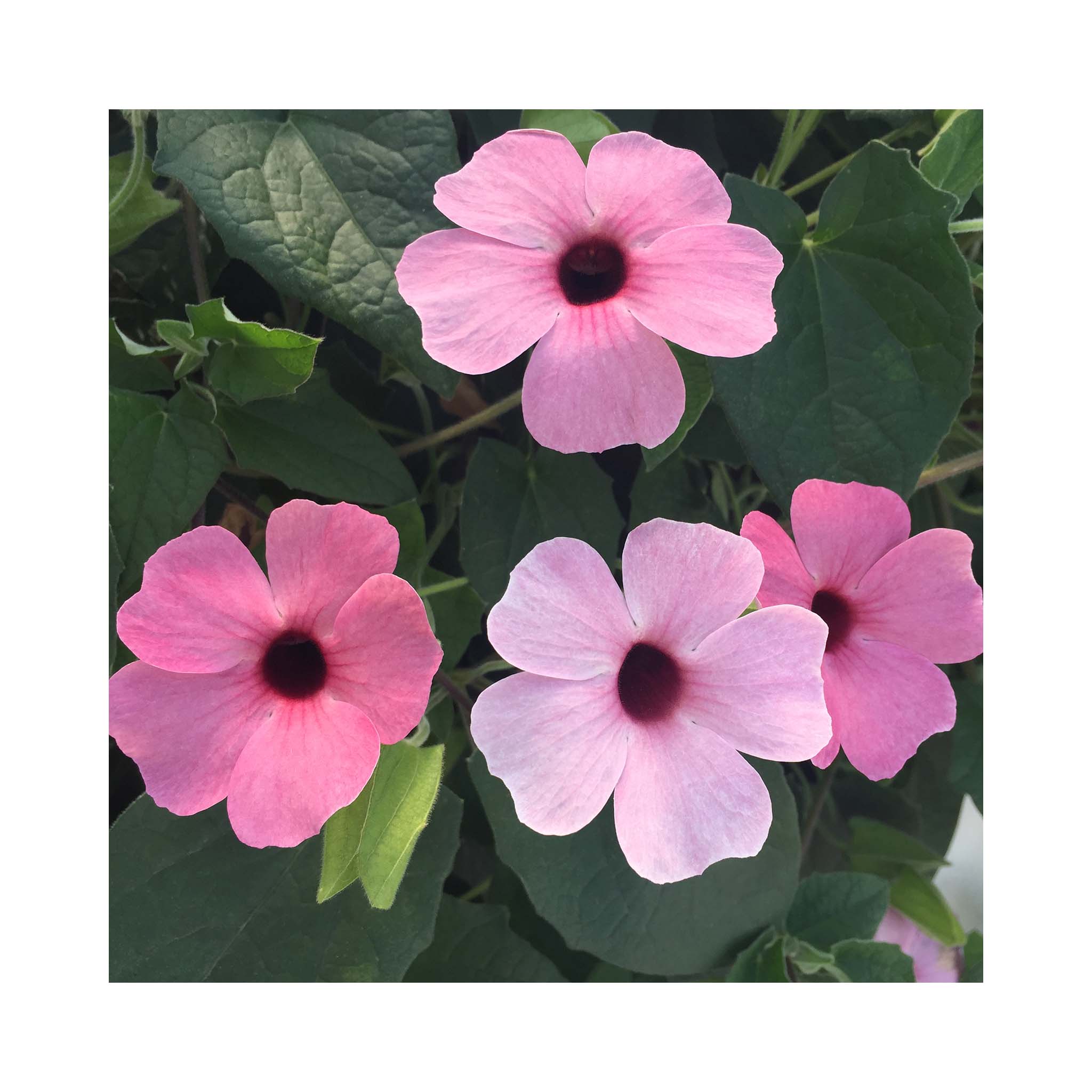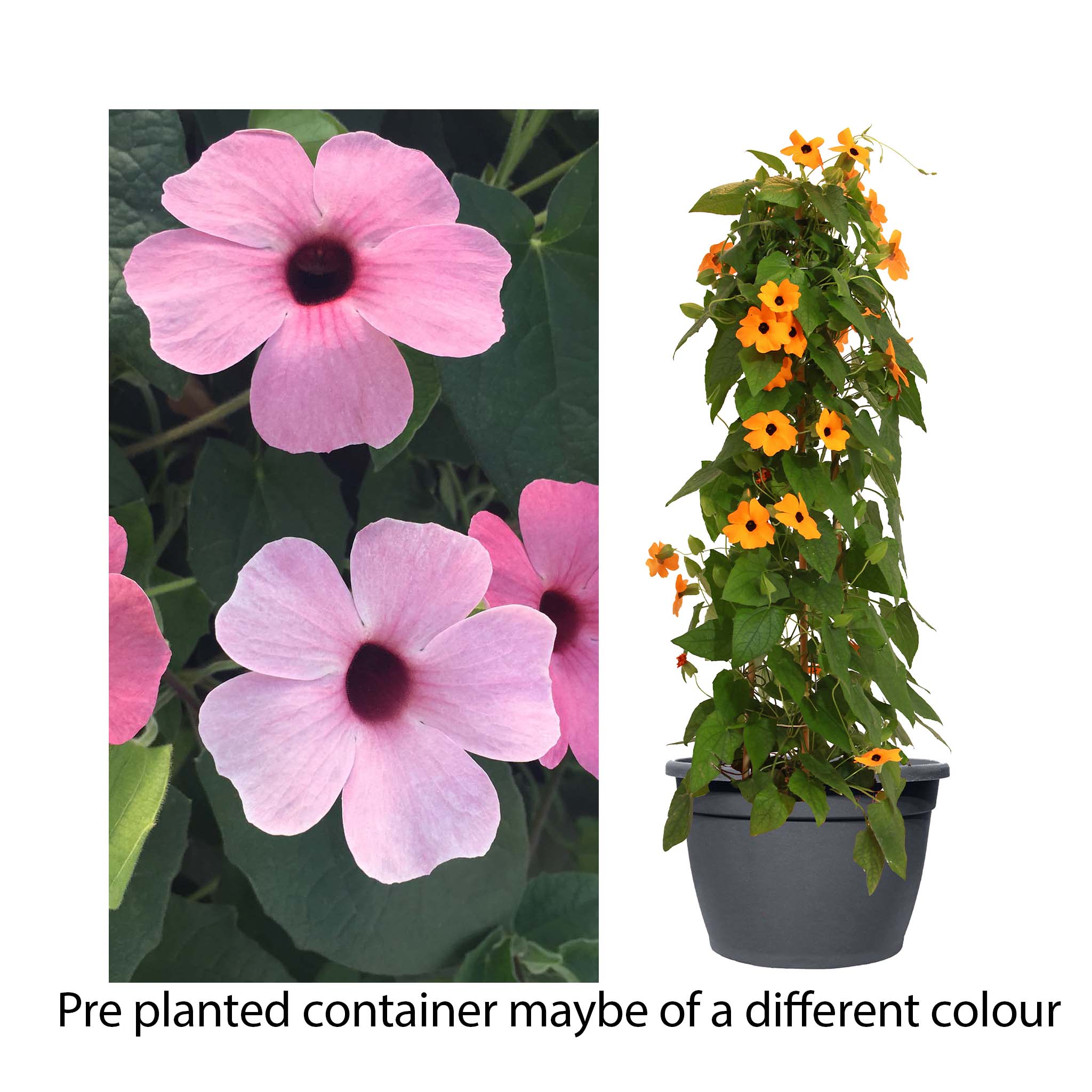 About the Thunbergia Sunny Susy Rose Sensation
Care Instructions

Sunny Susy will grow in most soil, but prefer well drained. Aim to keep the soil moist. Mulch around the base will keep the roots cool. On weeks when there is plenty of rain, you won't need to water at all.
Position, sunlight and more

Sunny Susy are best planted in sunny or partially shaded areas.
Height and Spread

Sunny Susy Series can reach heights of 175cm and spread 40cm.
Feeding, Pruning & more

Feeding - A light feeding every 4-6 weeks, with a complete fertilizer. If in containers, every 2-3 weeks.
Pruning - Deadhead regularly to prolong flowering.
Propagation - Stem cuttings are the best way to grow new plants.
Our pot & plant size explained

At Newlands Nursery we grow and sell plants in a variety of different sizes, from small starter plants up to planted containers. 

We know it can be tricky to picture the size of each plant. This page gives you an idea of the size of the plants we are sending out.

Please keep in mind that plants vary from one season to the next. The size of the plant refers to the pot or plug it is grown in, rather than the height of the plant, unless specifically mentioned on the plant page. 

Starter Plant (Plug Plant)

Plug Size: 2cm by 4cm. Our most popular size. This is often the most economical way of buying plants and is a great way to get a head start on the season. Generally this size is best to be potted up before planting out.

Jumbo Plug

Plug Size: 6cm by 7cm. A fantastic alternative to a 9cm pot and saves on plastic too. The plants in this size are well established and give you a head start. This size is perfect for planting straight into containers and baskets as well as the garden.

9cm pot

Pot size: 9cm by 9-10cm. This size hold some well established plants, some of which maybe around 1 year old. We sell most of our ranges in this size and most of the plants sold in this size, are established enough to be planted straight outside.

13cm or 1 litre pot

Pot size: 12-13cm by 12-15cm Currently our largest size of plant, with the exception of our planted containers. Many of our House Plants are available in this size, as well as some special collections and varieties.
Flowering time and interest